The German research landscape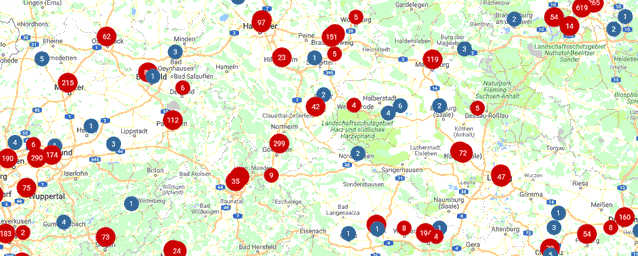 Under Search in the map view of GERiT you will find an overview of the places with research institutions in Germany.
The German research landscape
Germany offers a wide range of attractive locations at which to conduct research, including traditional universities, universities of applied science, non-university research institutions, institutes operated by the federal and state governments, and corporate research and development centres. Through GERiT, the Deutsche Forschungsgemeinschaft (DFG, German Research Foundation) provides information about more than 25,500 institutes with search options for location, subject area and keywords.
http://www.gerit.org/en/search
GERiT offers a range of ways to explore the German research system. For a complete overview of the German research landscape, you may also like to visit Research in Germany
In-depth information and analysis on research, funding and innovation is available from sources such as:
Job vacancies for researchers
On GERiT, the pages for approximately 100 universities include a link to the institution's own careers portal under Further information.
Research jobs are also regularly advertised as part of DFG-funded projects. Job vacancies on DFG-funded projects.
Other major research organisations also maintain careers portals, for example:
An overview of job vacancies at the universities can be found on the internet portal of the German Rectors` Conference (German only)..
In Germany, many vacancies are advertised in the newspaper "Die Zeit", and classified by industry or subject area. "academics" jobs site run by "Die Zeit" (available in German).